Remember my post on
Joy for Reading
? Here's another post about Early Literacy. My main emphasis for Le Xin when it comes to language development is for to be familiar with books. As early as 6 months old, I have already started exposing her to early literacy so as to cultivate her love for books.
Le Xin is beginning to show increasing interest in letters because there were a few times I actually caught her singing the ABC song as she pointed to the alphabet chart.
In general, I do not believe in force reading and drilling of letters is definitely a big NO too. I understand that many parents are eager to get the child/children to read but forcing a child to repeat sentences found in readers several times so much so that he/she could memorise the text makes no sense to me at all..... Many mums out there are going to kill me for this but come on, please do understand that everyone has a different perspective when it comes to teaching their child/children how to read right? :p
I always highlight to Le Xin how to handle books properly so that I know that I can leave books out for her to look at whenever she wishes to. By the way, I am also very particular about children stepping or sitting on a book, usually when I witnessed Le Xin stepping on her books, I will pretend to be mad at her. (You know that I can never be angry with her so I've got to pretend! haha) My reaction helps Le Xin to understand that this is a serious matter to me so that she will pay attention not to step on her books again and handle them with care. I also showed Le Xin how to put the books on the shelf after she has read them. When Le Xin kept the book after reading, I will applaud her initiative and praise her.... "Well done Le Xin, good keeping!"
She is now able to grasp the edge of the paper when flipping a book, rather than pushing her hand across the page. Hooray! I am so happy with her new progress!
As Le Xin develops, simple story books with repeated phrases appear to be very fun for her! I borrowed 5 Essential Readers from school and placed them near her reading corner.When she found the books, she kept asking me to read them to her. After reading the books a few times, she is now able to read them independently on her own when I am busy with house hold chores or cooking.
Once I caught her reading on her own.......I was captivated! She looked sooooo adorable. I had to hide at a corner and secretly take a video of her. Here it is....
Going forward, I realised that I need to encourage more literacy based activities so I revamp her reading corner...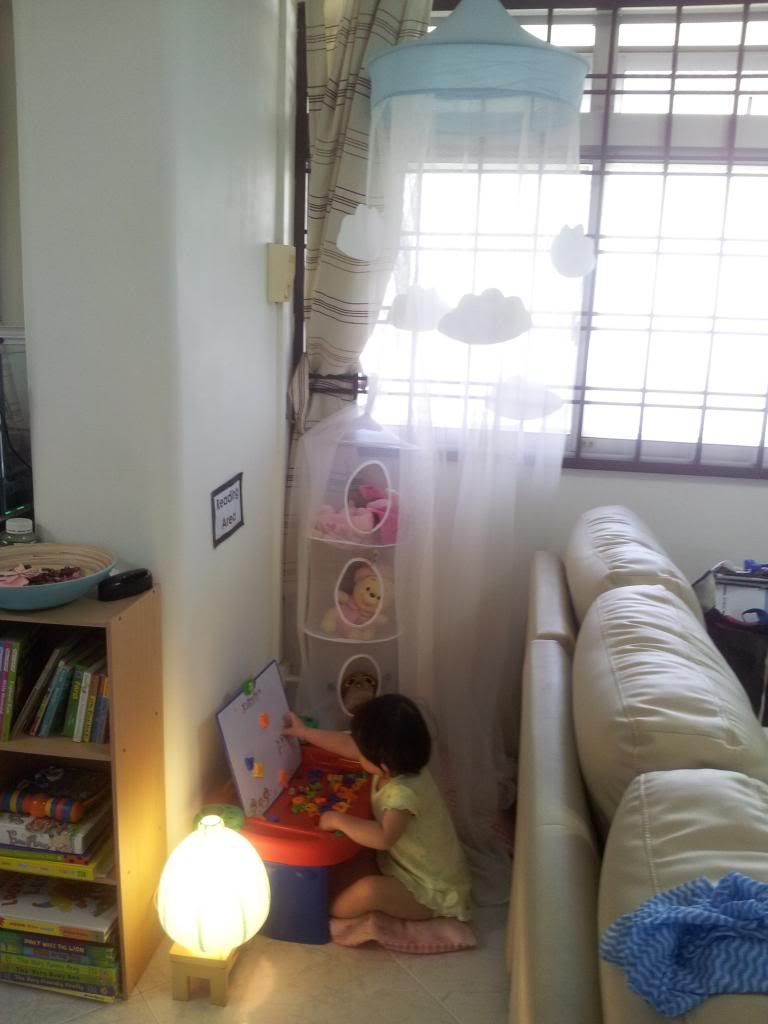 Place a magnetic board for her to put up some letters...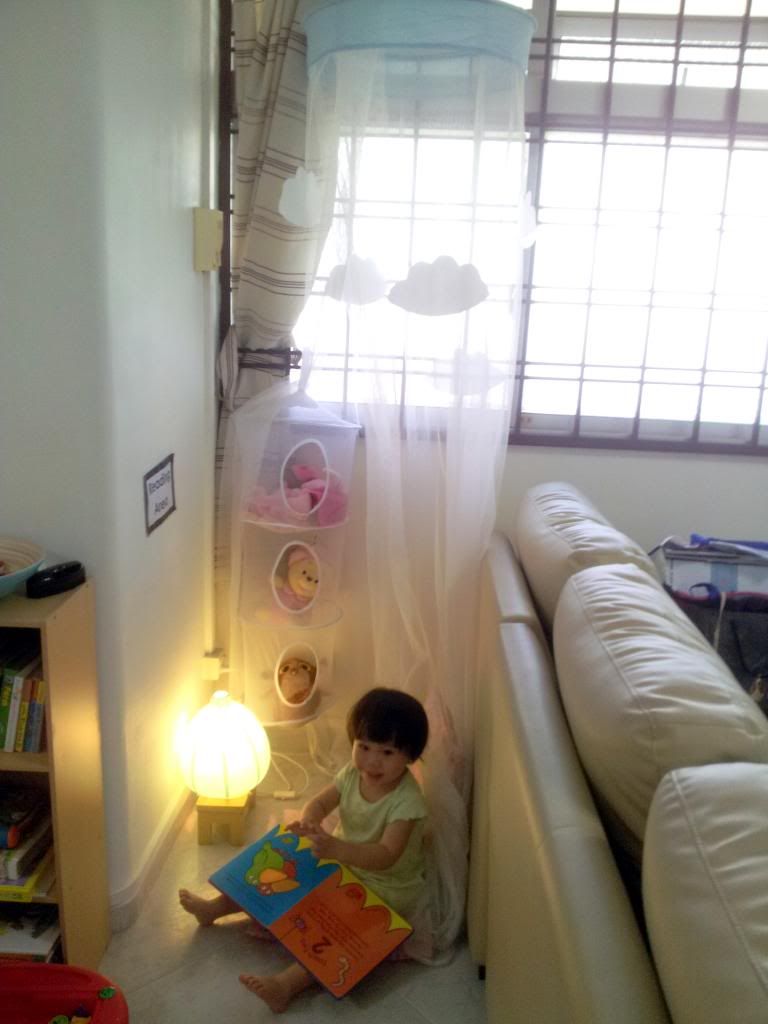 Or just picking up a book to read, the onion lamp gave reading corner a cosy feel......By the way, she really loves switching on the lamp on her own and switching it off when she leaves her corner.
It's always a good to keep a collection of books for children, be it at home or in a classroom setting. Sometimes, Le Xin and I will borrow some of our favourite books from the library and place them on our mini bookshelf. It's a cool idea to have a rotation so as to maintain the interest and curiosity "Hmph...what book will I find on my bookshelf today?" This is the kind of excitement I would like Le Xin to feel when she visits her reading corner......Early Literacy is just so important do you feel that same way too?